ATHENS — On Saturday, Joe Burrow won the Heisman Trophy, securing his stardom that many had already awarded him. Now, his hometown is reaping the benefits.
Athens County has long held the title of being the poorest county in Ohio — for every five residents, one is food insecure, according to Jean Demosky, director of Athens County Job and Family Services. Free or reduced lunch programs exist in every district of the county, offering meals to hundreds of children who likely won't have anything on the table when they go home that night.
Organizations like the Athens County Food Pantry and Southeast Ohio Foodbank are there to help fill the gaps. Just this spring the Food Pantry reported delivering roughly 6,000 boxes of food to families around the county on an annual basis. The Nelsonville Food Pantry pitches in for the effort as well, offering weekly meal boxes to dozens of families year-round.
Burrow is familiar with these facts. Growing up in Athens County, he saw poverty on a heartbreaking daily basis. In his speech to accept the Heisman Trophy, the world watched him hold back tears.
"Coming from southeast Ohio, it's a very impoverished area and the poverty rate is almost two times the national average," he said. "There's so many people there that don't have a lot and I'm up here for all those kids in Athens and Athens County that go home to not a lot of food on the table, hungry after school.
"You guys can be up here, too."
That same night Will Drabold, an Athens native, started a fundraiser for the Athens County Food Bank.
"Let's answer Joey's call to action by supporting a local nonprofit that serves food to more than 5,000 households in Athens County each year," he wrote in the call-to-action on his fundraiser.
And boy, that call was answered.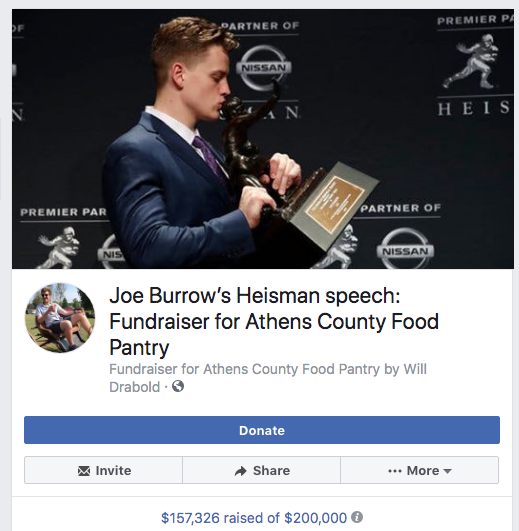 Over $150,000 had been raised for the Athens Food Pantry through Burrow's impact by Monday afternoon — the original goal for the fundraiser was $50,000. Drabold profusely thanked donators for their generosity throughout the day, and kept raising the limit.
"I'm crying again just writing this," he wrote at about 1:30 p.m. He relayed a story from his wife, who teaches in The Plains Elementary where the Heisman speech was played for students and the fundraiser announced. Burrow is a figure of renown amongst Athens School District students, where he once roamed the halls.
"One of my wife's 3rd graders came up to my wife and said, 'I go to the food bank,' with her eyes beaming. She was proud to say that she did. She was proud!
"This is the whole point. This is why I felt motivated to start this after watching Joey's speech," Drabold wrote. "Joey inspired a generation of children who come from nothing in Appalachian Ohio. Some of these kids don't get toys for Christmas. They get all their food from food stamps and the food pantry. You cannot beat the power of role models and inspiration in their lives. None of these kids, who are in the same classrooms Joey was, will ever forget this."
At $0.50 a meal, the funding will provide thousands of meals for local residents. Representatives of the Food Pantry could not be reached, but a statement was posted to the organization's page near 1 p.m.
"We are truly overwhelmed by the tremendous outpouring of support we have received to support our mission," the post read. "Many, many thanks to Joe Burrow for shining a light on food insecurity in our area and a very heartfelt thank you to everyone that has donated!"
The funds are still pouring in as of The Messenger's deadline, with over 4,500 separate donations toward the goal.
Heather Willard is a Staff Journalist for The Athens Messenger.